Every Monday morning starting on April 12 you can tune in to Silver Memories Radio to hear the serial of Hugh's book The Great Fletch. It's the life story of 1960s tennis champ Kenny Fletcher. Hugh has adapted it for radio, and reads it, an episode each Monday at 10 a.m. http://www.silvermemories.com.au and http://www.silvermemoriesapp.com.au   Silver Memories is broadcast by 4MBS into aged care residences.
This year Hugh was appointed a Patron of Silver Memories, the national Australian broadcasting service for the aged — thus joining a select group of Patrons that have included Jerry Lewis, Dame Vera Lynn and Pat Boone. Silver Memories is a nostalgic radio station broadcasting 1940s-70s music 24/7 Australia-wide to residential aged care homes and hospitals via satellite. …
September 16, 2020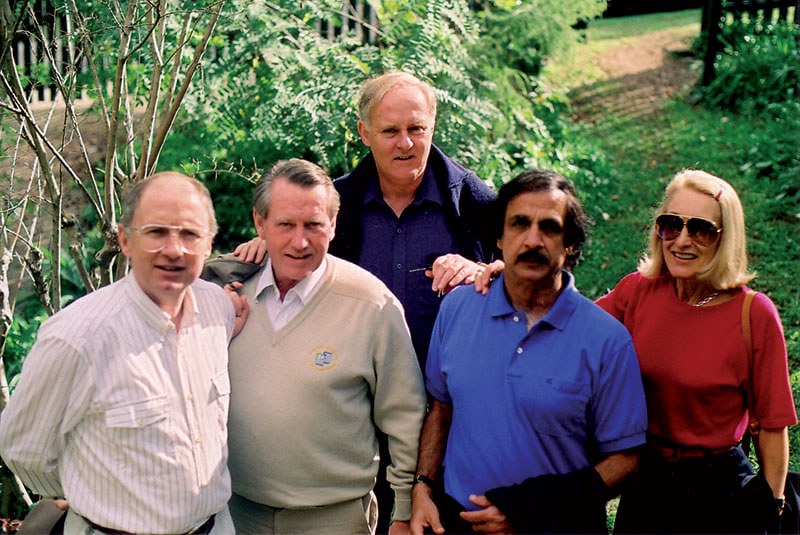 My friend Chuck Feeney has finally given away the last of his personal fortune of A$11,000,000,000 to charity!
It took him 30 years to make it — through Duty Free Shoppers (DFS) around the globe – and another 30 years to give it all away, most of it anonymously.…
The Storytellers: Step into the stories of our city
Uncover Brisbane's histories, myths and tales as told by the storytellers of our city.
Featuring new stories by Victoria Carless, Simon Cleary, Matthew Condon, Trent Dalton, Nick Earls, Benjamin Law, Hugh Lunn, Kate Morton and Ellen van Neerven, The Storytellers creates an immersive and interactive experience combining historical objects, artworks, and written and narrated histories to share Brisbane's many identities.
…
The Big Book of Lunn     2 books in 1                                                                  
Over the Top with Jim — the childhood memoir serialised by Macca on Australia All Over
Chosen as one of the "50 books you can't put down"
Head Over Heels — young love in Brisbane in the 1960s
Lost for Words                                                                                           
Australia's lost language in words and stories.…
State of Origin: The Musical! — which sold out three off-Broadway performances last November at The Princess Theatre, Annerley Road — was due to open just about now at the  Gardens Theatre at QUT in Brisbane. But, because of Covid-19, all theatres went dark.…